Euro 2020 qualifying: Who will reach the finals?
Euro 2020 kicks off in June next year and the 20 automatic qualifiers are known. Here is a look at how they got there and at the 16 teams that will fight for four remaining places via playoffs next March.
- Stream Euro 2020 qualifiers (replay) on ESPN+ | Final tables
QUALIFIED FOR FINALS
Austria
Belgium
Croatia
Czech Republic
Denmark
England
Finland
France
Germany
Italy
Netherlands
Poland
Portugal
Russia
Spain
Sweden
Switzerland
Turkey
Ukraine
Wales
What is still to be decided?
There are four places still to be won. Sixteen teams will enter the playoffs in March to fight for these spots.
JUMP TO: Who will take part in the playoffs? | Finals draw seeds and pots
How the groups played out
England won the group and will be seeded in the finals draw. Czech Republic have also made it to finals, while Kosovo will be away to North Macedonia in the League D playoffs. Bulgaria are guaranteed a playoff, path to be confirmed.
Ukraine will be seeded in the draw and Portugal in Pot 3. Serbia will be away to Norway in the League C playoff semifinals.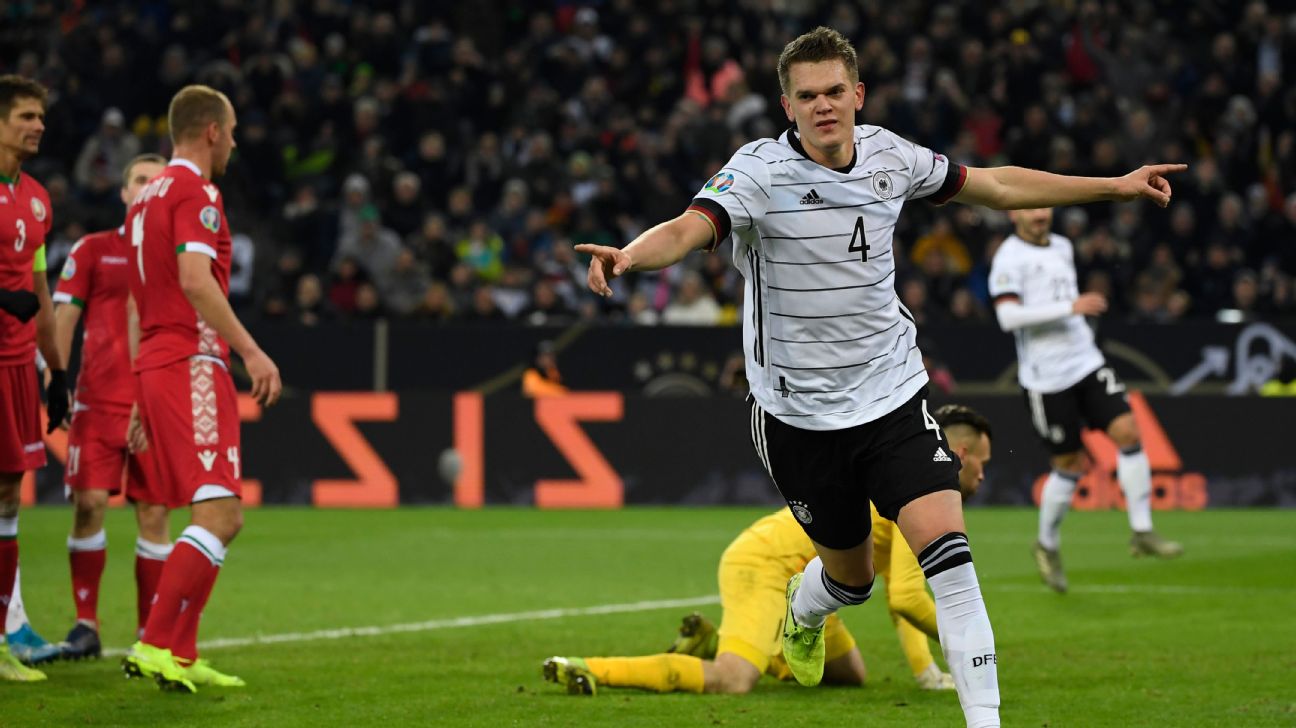 Germany will be seeded with Netherlands in Pot 2. Northern Ireland are in the playoffs on will be away to Bosnia and Herzegovina in League B, while Belarus will be away to Georgia in the League D playoff.
Switzerland won the group and will be in draw Pot 2, while Denmark finish second and go into Pot 3. Republic of Ireland must go into the playoffs and will be away to Slovakia in League B. Georgia will be at home to Belarus in the League D playoff semifinals.
Croatia won the group and will be in Pot 2 for the draw. Wales took second place and will slot into Pot 4. Slovakia will be in playoff path B at home to Republic of Ireland, while Hungary's playoff path is to be determined.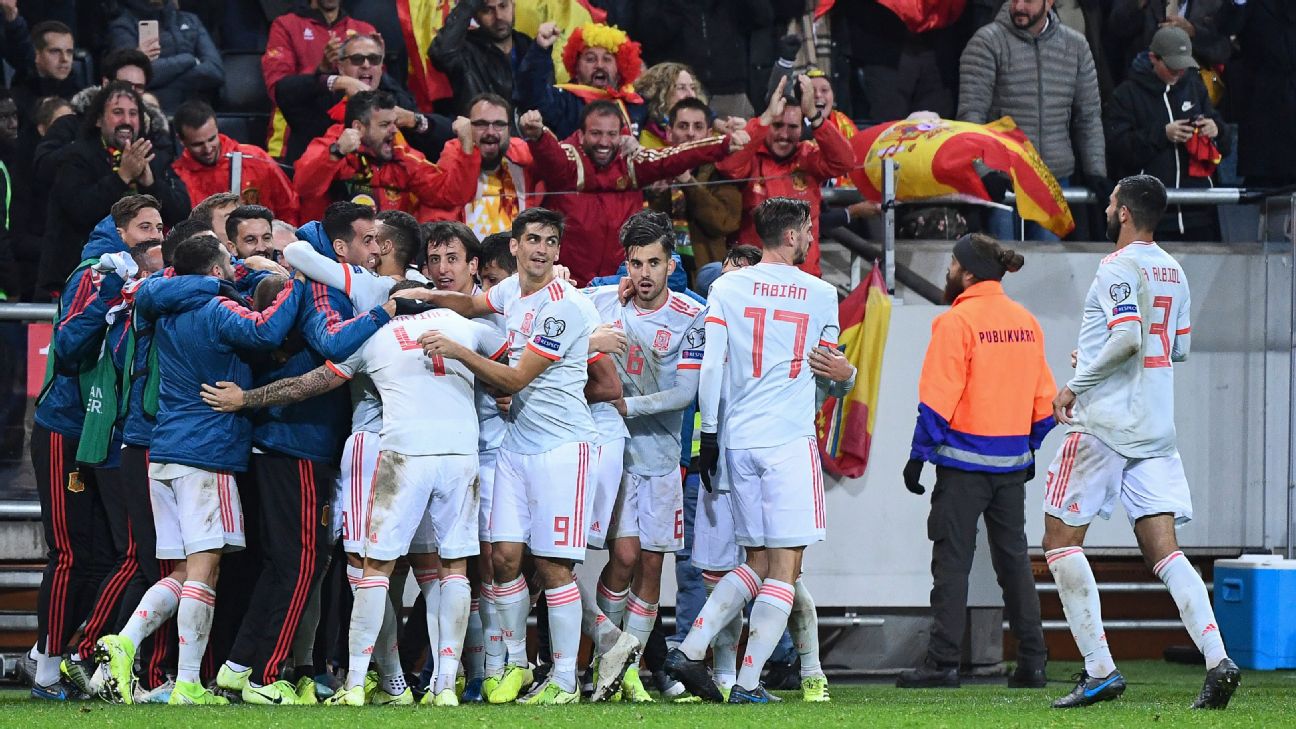 Spain won the group and will be seeded in the draw. Sweden will also be at the finals after finishing second, and will be in Pot 3. Norway will be at home to Serbia in the League C playoff semifinal, while Romania will be in the playoffs, and it is almost certain that UEFA will place them into path A to play away to Iceland.
Poland are group winners and will be in Pot 2, with runners-up Austria in Pot 3,. North Macedonia will play Kosovo at home in the League D playoff path. Israel will also be in the playoffs, path to be determined.
France (Pot 2) and Turkey (Pot 3) have both qualified for the finals, while Iceland are guaranteed a home semifinal in the League A path -- probably at home to Romania.
Belgium have won the group and will be seeded in the finals draw, while Russia have qualified and will be in Pot 2. Scotland will have a home semifinal in the League C playoff path.
Italy are through and are guaranteed to be seeded in the finals draw. Finland are also through to their first tournament and will be in Pot 4, while Bosnia and Herzegovina have a home semifinal against Northern Ireland in the League B playoff path.
PLAYOFFS
The best-performing nations from the UEFA Nations League who do not qualify automatically for Euro 2020 will get a playoff place.
There will be 16 teams in the playoffs, with four in each from a UEFA Nations League path.
The winners of the two one-legged semifinals (March 26) will meet in the final (March 31) for a place at Euro 2020.
The highest-ranked nation will be at home in the semifinal. While on Nov. 22 (11 a.m. UK, 6 a.m. ET), UEFA will draw the home team for the final ties.
The playoff system is explained in greater detail here.
- Euro 2020 playoffs draw: How it works
The UEFA Nations League rankings are in the following order, for teams who have not qualified automatically.
League A: Iceland
League B: Bosnia and Herzegovina, Slovakia, Republic of Ireland, Northern Ireland
League C: Scotland, Norway, Serbia, Bulgaria, Israel, Romania, Hungary
League D: Georgia, Macedonia, Kosovo, Belarus
There will be a draw, also on Friday, between Bulgaria, Israel, Romania and Hungary to decide which nations move to League A. At least one of Romania and Hungary would move to ensure there are not three hosts in the League C path. It would be unavoidable to have two hosts in one path, A or C depending on the draw.
The confirmed and possible fixtures are:
League A
Iceland vs. Hungary/Romania
Bulgaria/Israel vs. Israel/Hungary
League B
Bosnia and Herzegovina vs. Northern Ireland
Slovakia vs. Republic of Ireland
League C
Scotland vs. Bulgaria/Israel/Hungary/Romania
Norway vs. Serbia
League D
Georgia vs. Belarus
North Macedonia vs. Kosovo
FINALS DRAW
The draw will be held on Saturday, Nov. 30, in Bucharest, Romania. The draw ceremony will begin at midday ET (6 p.m. CET) and is expected to last 50 minutes in total (with 20 minutes for the draw itself).
- Click here to find out how the finals draw will work
Pot 1: Belgium, Italy, England, Germany, Spain, Ukraine
Pot 2: France, Poland, Switzerland, Croatia, Netherlands, Russia
Pot 3: Portugal, Turkey, Denmark, Austria, Sweden, Czech Republic
Pot 4: Wales, Finland, Playoff A, Playoff B, Playoff C, Playoff D
One team from each pot would be drawn into the six groups.