Julen Lopetegui gets dream second chance at Real despite odd timing
It didn't work for Julen Lopetegui the first time at Real Madrid but the odds look a little better now that his second chance has come along.
When the departing Spain coach -- who will succeed Zinedine Zidane once La Roja finish their business here in Russia -- was advancing through the Madrid academy as a youngster, he gave the appearance of a terrific keeper in the making. Tall, athletic and strong, possessing that typical Basque stubbornness of purpose and blessed with being a decent footballer too, Lopetegui should really have had the world -- not just a ball -- at his feet. But things took a bad turn for him when John Toshack, already assured of winning the Spanish title, gave the 23-year-old his first appearance for Los Blancos in the penultimate match of that 1990 campaign.
It was a big moment. Madrid had been knocked out of Europe by that great Milan side under Arrigo Sacchi and had lost the Copa del Rey final to Barcelona, but they were nevertheless about to win their fourth straight Liga title. Their penultimate game that year was el derbi away to Atletico. If you want to get an idea of the kind of quality Lopetegui showed in order to merit a place in this squad, you might want to know that this was the Madrid of Fernando Hierro in his pomp, the Madrid of Hugo Sanchez, Michel and Emilio Butragueno, of Sanchis, Chendo and Bernd Schuster, of Paco Buyo and Martin Vazquez.
Talents, winners... and Madrid legends. That day, however, the three Lopetegui conceded in a six-goal thriller seemed to count against him and he lost the battle to convince Real Madrid that -- having worked his way through the system, since arriving from Real Sociedad at age 19 -- he was ready to be given more responsibility. The two have flirted with each other since then, with Lopetegui having an integral role in Madrid's scouting system a few seasons ago and then coaching Castilla. But here they are, married to one another again 28 years after his original bitter disappointment.
I guess you can argue that the Spain boss, which he will remain until the national team finishes competing, and Madrid meet his €2 million buyout clause from the Spanish FA, knows full well what he's getting into.
You can argue that he knows the complexity of Madrid's political machinations, he knows the intense scrutiny he's going to be under, which will make the pressure of being Spain manager seem like a walk in the park. He knows the issues that must be faced: dramatically closing that points gap on Barcelona in La Liga, making a sufficiently convincing stab at defending Madrid's European crown, which has been fitting quite snugly around their forehead for the past three years, and definitively renewing the squad.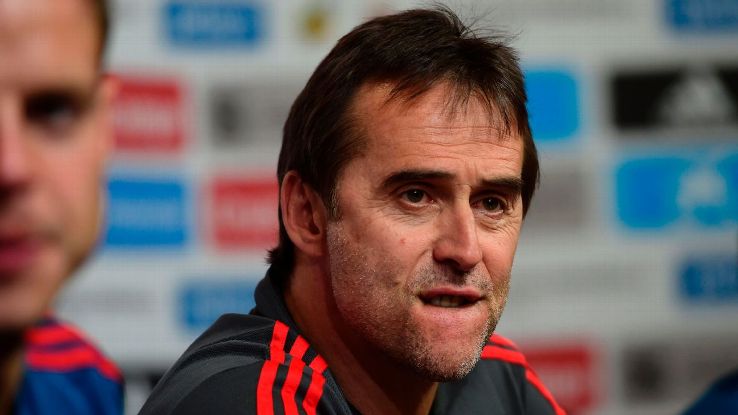 By coincidence, I was chatting today with one of the players in this squad who best knows the Basque and his management style, and two things stand out.
When it comes to his footballing disposition, Lopetegui is wholeheartedly a "Cruyffista." By which I mean that however the two men got along, the Dutch maestro's playing philosophy has always been seductive to Lopetegui. He wants to dominate the ball, use possession aggressively and put pressure on opponents with or without the ball, meaning that his players need to press and harass to win possession back immediately after it's lost.
The second is that he's a communicator. When his fledgling coaching career stalled, it became clear that TV loved having Lopetegui explaining the sport thanks to his firm opinions, good looks, conviction of delivery and, apparently, an ability to make his audience think that he was making good clear sense. Footballers often seem to feel the same way about him. The one I spoke with underlined the point that Spain's boss, Zidane's successor as of today, gets his point of view across and demands to see his requests fulfilled.
I'd guess that Madrid began to watch Lopetegui with interest when they loaned him Casemiro at Porto and got a wholly different footballer back at the end of the spell. The Brazilian's natural abilities seemed hugely augmented, his tactical discipline had improved, his confidence soared and he became one of the best (and most street smart) defensive organizing midfielders anywhere in the game.
Madrid's recent domination in Europe owes at least a smidgen to Lopetegui's transformation of their midfield enforcer.
It's true, too, that Isco knows he has a huge fan in this guy. Since Lopetegui took over from Vicente Del Bosque, another Madrid legend, the Malagueno has been pushed to absolute prominence for Spain. Isco knows that he is the epitome of a "Lopetegui player." He's supremely confident on the ball, always urgently looking to make things happen, happy to chase and eager to press in order to win possession back. Isco and Lopetegui have been good bedfellows for La Roja and you'd bet your bottom dollar that this was also a small part of Florentino Perez's thinking.
While rebuilding team spirit and patterns of play in his pretty brief reign in charge of Spain, the new Madrid coach did something else that will have been part of Real's hiring logic.
While Del Bosque saw that David De Gea needed promoting to fill Spain's No.1 shirt at Euro 2016, Iker Casillas was still in theory competing to be La Roja's keeper. Lopetegui handled the issue with care and consideration but he not only eased the great man out altogether; he awarded the captaincy to Sergio Ramos. A good decision.
I've been watching the two of them here in Krasnodar and it's quite apparent that they sing from the same hymn book. Ramos is bulging with form, only just holding back from pawing the ground because he's so desperate to "get at" Portugal. And when the "General" and club captain speak together, it's a clear meeting of minds: tough and unified, two guys on the same page.
There's trust in their relationship. That also bodes well for a coach who clearly values and will use Lucas Vazquez and Marco Asensio in this tournament; in fact, the two of them look as if they can stand out here.
Having said all those things, and I guess with it becoming clear that I both like and respect this guy who told me that he's the "King of Karaoke," it's not as if there are no potential obstacles ahead. I'd guess that not all of Spain's players are grateful that their preparation for meeting the European champions in Sochi on Friday has been interrupted by this piece of business. I'd also guess that some of the Barca players might well be looking at their national team coach with fresh eyes now.
It's true too that there are always those who look to take advantage of a situation and should anything Spain do come unstuck over here in Russia -- for example a group exit, heaven forbid -- there will be those who claim that perhaps that owes something to Lopetegui having had his mind on the Madrid offer. I don't see it that way as Spain's build-up has been organized, unified and full of purpose.
That's been easy to spot. But the new boss of Los Blancos must know that fairness and balance aren't things that go hand in hand with the way his new job is treated by some.
If Spain win this tournament, or play gloriously and narrowly fail, then Madrid will feel that he can begin his work in July with a swagger and with momentum behind him. However, if their performance is anything like the last two tournaments, the horrors of Brazil and the eight-stone weakling departure against Italy in Paris, then Lopetegui would be accompanied across the threshold with the muttering, mumbling and bitching that come with the territory in Spain when the national team trips and falls.
Hardly ideal.
However if, like me, you are something of a romantic then it's right to wish Lopetegui good luck. A shock announcement and not the best timing -- fair enough. But it's a golden second chance for an honest, tough and talented guy whom Madrid let slip away all those years ago.
Graham Hunter covers Spain for ESPN FC and Sky Sports. Author of "Barca: The Making of the Greatest Team in the World." Twitter: @BumperGraham.