How Memphis Depay overcame a nightmare childhood and failure at Man United to become the Netherlands' star forward
"I have made mistakes in my life," says Memphis Depay at the start of his new autobiography, which veers from heartrending to uplifting and back. "I have taken and handed out many punches, and have fallen on my face countless times."
Now, at age 25, Olympique Lyon's Dutch forward tells us: "I'm not even halfway through what I want to achieve. It's quite a list. Playing for Real Madrid. Winning the Champions League. Getting the Golden Ball for world's best player. Having €100 million in my bank account when my career ends. Starring in music, film and fashion. Starting a family. Doing good work in Ghana and other countries. I will conquer mountains whose height I don't even know yet."
- Nations League: England vs. Netherlands, Thursday, 2:45 p.m. ET on ESPN2
- Nick Hornby: Is Arsenal much different under Emery?
- UEFA Nations League: Biggest storylines, players to watch
Memphis plans to start this week by leading the Dutch national team to only the second prize in its history (after Euro 88): victory in the final four of the inaugural European Nations League in Portugal (you can watch all the semifinal action in the U.S. on ESPN2, and the final on ESPN). England's defense will fixate on him in Thursday's semi. But his autobiography, "Heart of a Lion" (the title is in English, though the book's in Dutch), recounts the victory he has already won over himself.
Until the book appeared, only intimates knew his childhood story. Memphis likes to be known only by his first name, because he was three when his father -- a Depay from Ghana -- abandoned his Dutch mother in the small town of Moordrecht. The trauma of his youth came when he was nine, after his mother moved them in with a neighbor she had fallen in love with. The man's many children gave Memphis constant beatings. He became a distrustful boy who refused to talk about his pain, and he clashed with teachers and football coaches. He recalls a phase at school when he would sit crying under his desk, terrified at the prospect of having to go home. By the time a friend of his mother's helped them escape the house, Memphis was a damaged child. He began drinking at age 12, dealt in soft drugs, hung out with cocaine dealers and tried to make other people hurt like he did.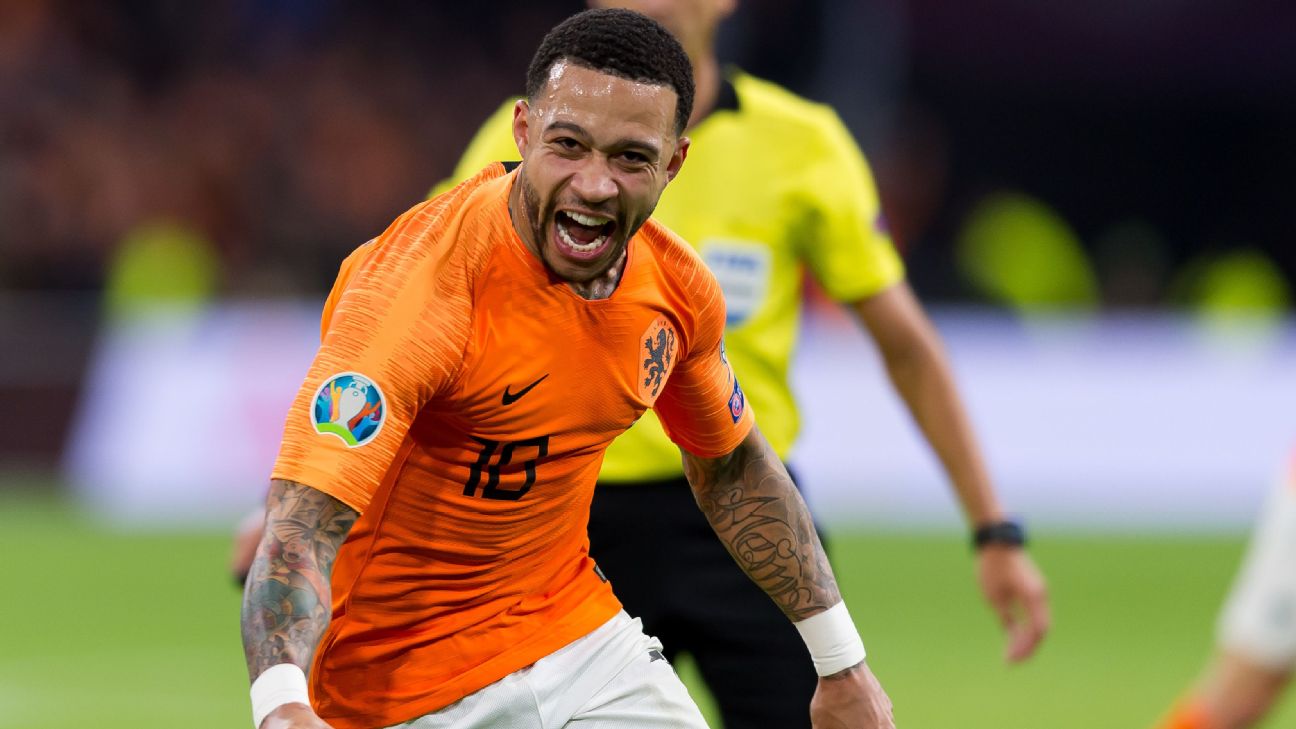 Unable to express himself in conversation, he sometimes rapped his feelings to his mother. Even today, Memphis seems most comfortable communicating through rap (he writes his own lyrics in a Dutch-English mix), social media (he has 6.8 million Instagram followers) and tattoos. The lion's heart across his back, which gives the book its title, expresses his feeling that he spent his childhood in "a jungle" and finally triumphed.
It's a cliché, but football saved him. Aged 12, already equipped with six-pack abs, Depay joined PSV Eindhoven's academy and moved in with a local host family. As the club's biggest young talent, he had leeway to continue misbehaving. He was expelled from multiple schools and at 15 was finally allowed to quit education (something almost unheard of in the orderly Netherlands) to bet his future on his football career. Soon afterward, he joined PSV's first team, where the older players liked him about as little as his academy teammates had before.
PSV deserves kudos for coping with the problem child; a more rigid academy like Ajax's might simply have kicked him out. A hero of the book is mental coach Joost Leenders, who was hired by PSV to manage 12-year-old Memphis and remains a confidant to this day. But Memphis deserves credit too: Even as an impossible adolescent, he was a hyper-professional athlete. PSV's chief scout, Rini de Groot, later reflected: "Of course I sometimes worried about his behaviour, but his topsportmentaliteit [top sports mentality] was wonderful."
Memphis was given a free role in PSV's first team while still a teenager. Soon, he was the best player in the Dutch league. Aged 20, he shone as a sub in Holland's run to third place at the 2014 World Cup (despite some run-ins with Robin van Persie, who in his waning days seems to have had mixed feelings about his cocky young successor).
Spurs wanted him after the World Cup, but Memphis decided they weren't "in the list of absolute top clubs." A year later, he agreed to join Liverpool, but after Daniel Sturridge got injured, the club bought Christian Benteke instead. When Manchester United rang, Memphis, then 21, felt he was the man for the job: "I was convinced I could add something that wasn't there yet: creativity, boldness, moves. Manchester United is one of the biggest clubs in the world. In name. But for years they played football that put you to sleep."
Like many young footballers from troubled homes, Memphis has constructed an alternative family out of an entourage of trusted male friends whom he regards as brothers. One of them, Gigi, moved to Manchester with him, where they rented a mansion from Phil Neville.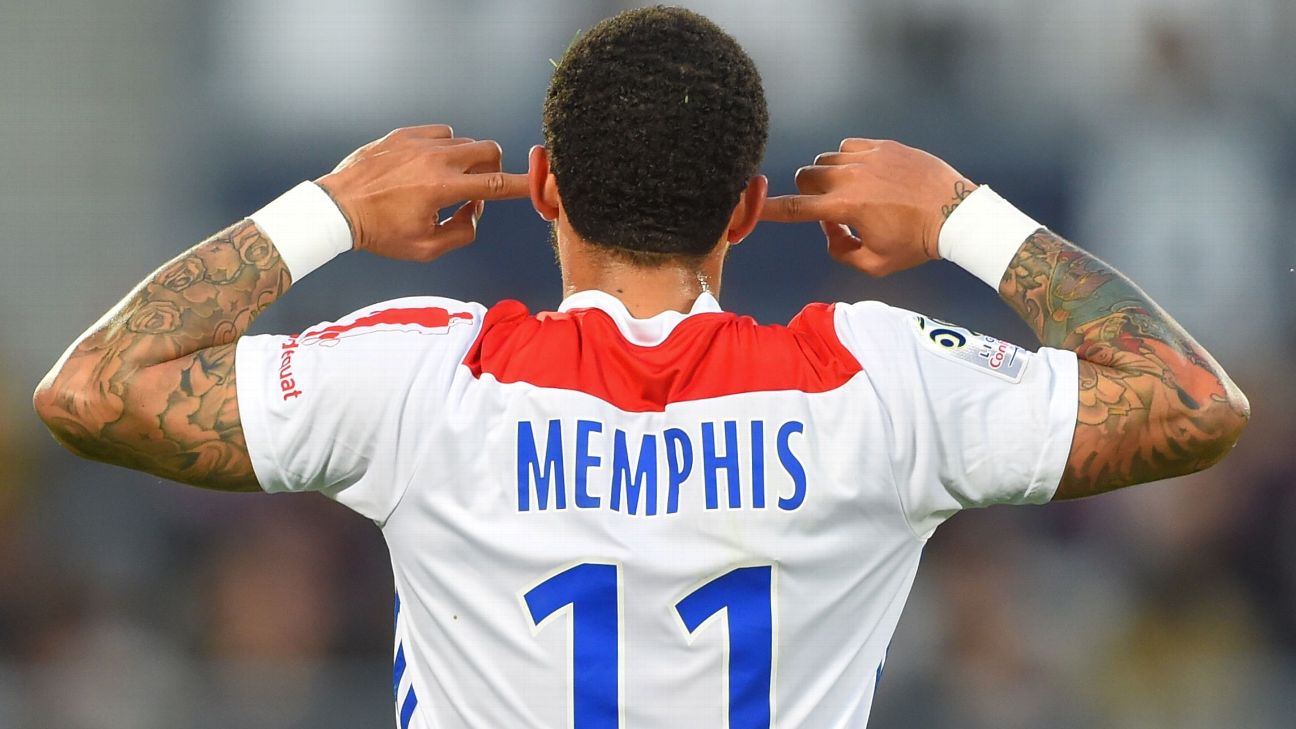 And there Memphis hit another low. He craved a free role, but United was probably never going to grant that to an inexperienced youngster. He was stuck on the wing where he mostly chased defenders until he was eventually benched. The British tabloids mocked his expensive clothes and Rolls-Royce. He suffered similar from Dutch pundits: When he showed up for a match with Oranje wearing a large black hat, it was national news. The Dutch like their footballers to act normaal.
In Manchester, he rattled around his mansion, lonely and miserable. At the time, he blamed his failure on United's managers, Louis van Gaal and Jose Mourinho, but now he blames himself. Mino Raiola, the Dutch agent who brought Paul Pogba, Zlatan Ibrahimovic and Romelu Lukaku to United, told me that the youngster was given an impossible assignment. "Not if you have to perform now," explained Raiola. "[Anthony] Martial and Depay come in and say, 'We have to carry Manchester United, a giant institute?'" Had Memphis been slightly older and playing in a better team, he might have succeeded at United.
During his struggles there, he found God -- a major presence in his book. An admirer of American preacher T.D. Jakes, whom he hopes will one day baptize him in Jerusalem, Memphis seems to have embraced a version of the prosperity gospel: If you work hard and believe, you will be given untold riches. God also helps him tune out the noise from fans and social media that accompanies any modern sporting career. That's why he celebrates goals by putting his fingers in his ears, then pointing skyward.
After United, he chose his next destination with help from computer modelling. The data company SciSports identified Olympique Lyon as a club likely to give him a free role at outside-left. He moved there in January 2017. At times he has been the most effective forward in the French league; more recently, not so much.
But in the Dutch team, he has become an unquestioned star. Given a free role by coach Ronald Koeman, encouraged to dribble and shoot even if he loses the ball, Memphis is Oranje's main attacking threat. In 12 internationals under Koeman, he has scored eight and assisted five. He was involved in all of Oranje's last six goals. He has built an understanding with the new Dutch playmaker Frenkie de Jong. In a hungry young team without established stars (even captain Virgil van Dijk has played only 26 internationals), Memphis feels respected. The national squad plus Koeman came to his book launch last week.
At 25, around the age when men typically start to calm down, he is maturing. Tufan, another friend in his entourage, says: "The combination of top quality, mentality and self-confidence makes him suited to grow into one of the world's best players."
This summer, Memphis is hoping for a second chance at a giant club. But even if he never gets it (and Real Madrid may have set its sights higher), he feels he has triumphed. In his words: "The little boy that hid under his school desk is now a strong person ... with a lion's heart."