Sacking Zinedine Zidane would be a massive mistake for Real Madrid
"Who else is going to do it?" Mark Hughes asked defiantly on New Year's Day when asked about the security of his job after a defeat at Newcastle left his Stoke City side in the bottom three of the Premier League.
That question has yet to be fully resolved but it won't be "Sparky," who was sacked last weekend as third-tier Coventry dumped Stoke out of the FA Cup.
Over in Spain, Zinedine Zidane arrived 90 minutes late for his Copa del Rey prematch news conference on Tuesday as pencils were sharpened in newsrooms across the capital. A 2-2 draw at Celta Vigo on Sunday hammered the final nail into the coffin of Real Madrid's title defence as Barcelona opened up an unassailable 16-point gap over the fourth-placed champions. Was Real Madrid president Florentino Perez sharpening something weightier?
The Real Madrid president can be reactionary: When he saw that the squad was regressing under Rafa Benitez he did not hesitate to pull the plug on the Spaniard's brief tenure. Nor now will he wish to erode the goodwill he has built up during Zidane's management. Perez has made very few mistakes during his second stint in the Bernabeu boardroom and the Frenchman's success on the pitch was instrumental in the incumbent cruising unopposed to a fifth term last summer.
There are few club-manager marriages that are made in heaven but there is a common thread running through the vast majority, from Bob Paisley and Jock Stein to Pep Guardiola and Carlo Ancelotti -- all were coaches who played for the club they would later lead to glory.
Ancelotti's case is a pertinent one. The Italian delivered the Decima after an obsessive 12-year wait, yet was sacked a year later after failing to win a major trophy at the end of his second season. That decision did not go down well with senior players, led by a particularly vehement Cristiano Ronaldo, who wasted little time in stating during Benitez's ill-starred reign that he would like to work with his former boss again.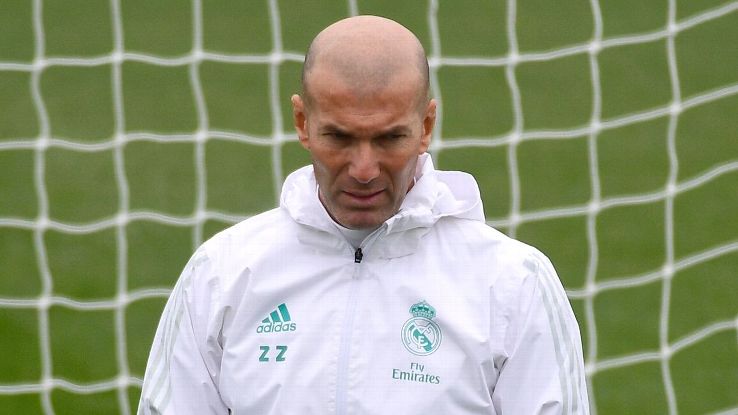 And yet while the avuncular approach Ancelotti adopted at Real Madrid worked wonders after the poisonous atmosphere of Jose Mourinho's final season, at Bayern Munich the Italian's methods did not have the same effect, with reports circulating in the wake of his departure that players had secretly conducted their own training sessions.
Hughes continued his passionate defence of his position by saying: "In terms of the knowledge of the group and the progress in my time here, I'm the best person to do it."
The same is true of Zidane. In addition to his trophy-laden two years in charge of the first team can be added spells as an advisor to Perez and assistant to Ancelotti when the Decima landed on the president's desk.
That wealth of familiarity with the club is an asset in itself, but Zidane's aura extends beyond the Bernabeu. The World Cup winner with France has insisted he does not want any new players in January, instead tasking his existing squad with returning to the heights of last season, but there will be an overhaul in the summer.
Perez is likely to pull rank in the Galactico department after what has been a remarkably frugal two years under Zidane and the fact that several potential targets idolize the current boss is an ace up El Presi's sleeve. Eden Hazard, top of Perez's shopping list, is among them and there are few players who would not eagerly entertain the prospect of being coached by one of the game's greatest players.
That won't alter the current situation in La Liga but it is a consideration for Perez moving forward. There are few managers in the world able to handle a club like Madrid and Zidane is doing so with a smile and a healthy dose of realism. On Tuesday, the Frenchman said he believed in his players and would wait until the end of the season to see what fate has in store. It sent the required message, rather than apportioning blame or bemoaning a lack of funds.
Jose Mourinho said recently that £300 million was not enough to compete with Manchester City. With the signing of Philippe Coutinho, Barcelona have spent that amount on two players in six months. There is no doubt that Madrid will respond in the summer and Zidane must be allowed free rein to lavish Perez's millions.
The Real president is no stranger to the caprice of the managerial merry-go-round. His five permanent appointments after the bizarre dismissal of Vicente del Bosque in 2003 managed one trophy between them, Carlos Queiroz winning the Spanish Super Cup that the future Spain manager had qualified the club for the previous season. Jose Antonio Camacho memorably lasted three league games under Perez's regime in 2004 after suggesting the Galactico policy was fundamentally flawed. Perez's departure in 2006 proved Camacho correct.
The Real president has learned from those mistakes and Zidane was there to witness them all as a player. What started as a marriage of convenience two years ago has delivered more than either could have imagined and a June divorce would be the biggest mistake of Perez's second coming. After all, who else is going to do it?
Rob Train covers Real Madrid and the Spanish national team for ESPN FC. Twitter: @Cafc13Rob.