Antonio Conte faces judgement day as Chelsea travel to Barcelona
It's been a long time coming, but judgement day could be about to dawn for under pressure Chelsea manager Antonio Conte as his inconsistent Blues side face a decisive Champions League round-of-16 tie with Barcelona in the Camp Nou on Wednesday evening.
Three months ago, when the draw for this phase of the competition was made, there was an immediate sense that the game would be balanced on a knife-edge going into the second leg. For Blues fans, that's a Chelsea thing, and following a 1-1 first leg at Stamford Bridge it's exactly how things have worked out.
Back in December it seemed unlikely the club's form would nosedive spectacularly and that Conte would soon find himself on the brink of getting sacked. Indeed a poor performance against Barcelona could spell the end of the Italian's reign as Blues boss.
When Chelsea were paired with Barca, they were sitting a comfortable third in the Premier League and still contesting the Carabao Cup. A loss to bottom-three side West Ham had come as a shock to supporters, but Conte remained their hero. Chants of "Antonio, Antonio" still reverberated around Stamford Bridge while it was the board's perceived failure to back the manager that was blamed for the Blues' title defence faltering.
It hadn't helped that club record signing, striker Alvaro Morata, who'd started the campaign scoring six goals in as many games had been out injured, but he was back and things would work out just fine, they always did one way or another at the Bridge. As for Barcelona, well memories of Chelsea knocking the Catalan giants out at the semifinal stage in 2012 remained fresh in the mind.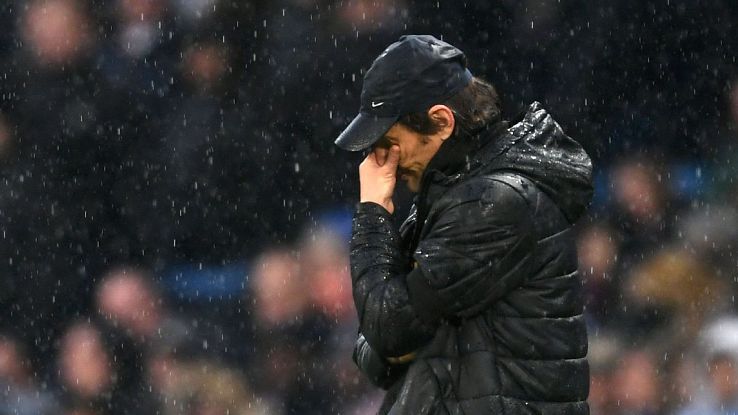 The fans often talk about the glorious unpredictability associated with their club. The bizarre trait of snatching defeat from the jaws of victory against feeble opponents and turning adversity into triumph against the leading lights is part of Chelsea's DNA. The 2012 season that saw manager Andre Villas-Boas sacked as late as March 4, following a poor run of league form and a 3-1 away loss to Napoli in the first leg of a Champions League round-of-16 tie, exemplifies it best.
Villas-Boas was replaced by his assistant, Chelsea legend Roberto Di Matteo who along with a whole host of Blues icons -- among them captain, leader, legend John Terry, Frank Lampard, Petr Cech, Ashley Cole and Branislav Ivanovic -- blazed a trail to glory winning both the FA Cup and the Champions League.
It buoys Chelsea supporters in times of trouble, and rightly so. Unfortunately, this time around, unbridled enthusiasm that history can repeat itself especially, given that the Blues are also currently still in contention for the FA Cup, has been gradually blanketed by a swathe of negativity. Today's Chelsea lack the genuine leaders of 2012, while Conte's general demeanour since the turn of the year -- when the Blues' form has taken a serious dip (W5, D6, L5 all competitions) -- has led many fans to believe that he is purposefully trying to engineer the sack and secure a significant payoff from the £19.2 million, two-year contract signed last summer.
Chelsea's slump has seen them lose limply to Arsenal in the Carabao Cup semifinals and get hammered in the league by also-rans Bournemouth and Watford. Further top-flight defeats to Manchester United and Manchester City underlined the scale of the problem that has seen the Blues drop to fifth in the table, four points behind arch rivals Tottenham Hotspur.
Along the way, Conte's tactics, in particular his decision to regularly deploy star player Eden Hazard as a false No. 9 to cover for Morata, who never regained his early season edge, have been roundly criticised. Should the Italian opt to go with this strategy against Barca, as he did in the first leg and in the woeful performances against Bournemouth, Watford and Man City, the knives are already sharpened.
Curiously, if Conte is to find salvation it may lie with new signing Olivier Giroud. The France international striker was clicking his heels on Arsenal's substitutes' bench around the time Chelsea were paired with Barcelona, but an £18m January move has opened up a whole new world of peculiar possibilities. The 31-year old has yet to score for the Blues, but he came close and led the line well in Chelsea's 2-1 win over Crystal Palace at the weekend. Conte's side looked an altogether more threatening proposition with Giroud up top and Hazard and Willian ghosting in from the flanks. Supporters are demanding the Italian sets his team up this way against Barca.
With home advantage and momentum gained from a dominant La Liga campaign, which sees them head the Spanish league by eight points, Barcelona are overwhelming favourites to win the tie. Irrespective of tactics and any miracle involving Giroud scoring his first Blues goal, eliminating Lionel Messi and Co. looks a tall order.
Roman Abramovich will likely hold Conte responsible for any failure and that usually only means one thing.
Mark Worrall is one of ESPN FC's Chelsea bloggers. You can follow him on Twitter: @gate17marco