Barcelona optimism growing ahead of the Clasico but Real still pose a threat
A palpable sense of optimism seems to be growing in Barcelona. The Catalans may have only a three-point margin going into the first Clasico of the season, but the confidence that they can extend it on November 21 is building.
At the moment, good news is seemingly never-ending for the Blaugrana: the team is beginning to hit its stride, big players are in the best form of their career and the biggest of them all, Lionel Messi, has just returned to training. When contrasted with Real Madrid's poor form and constant trips to the physio room, it is easy to get carried away, but would it perhaps be wise for supporters of the league champions to temper their expectations in the build-up to the Bernabeu?
As a club, Barcelona have at least tried to dampen some of the euphoria when it comes to Messi. While numerous reports confirmed that he trained with the group on Thursday for the first time since picking up an injury on September 26, Barca made sure not to include him in any of the audio-visual material released from the training session that day, actively shielding him from the public eye.
It ultimately made little difference. On Friday morning, Sport's front cover led with the headline "Messi is already shooting!" while Mundo Deportivo also featured the news that he was back in action on their own front page. To top it off, Marca subsequently revealed that the Argentinean chose to work on his day off on Friday in order to further his recovery. So much for keeping things under wraps.
"Messi fever" will no doubt build further as the game draws nearer, but in contrast to previous years, the prospect of the forward appearing at the Bernabeu feels more like a bonus rather than a defining factor in Barcelona's potential for success. That is in large part to Neymar's sizable step up in the Argentine's absence. The Brazilian has taken charge of Barcelona's attack with aplomb, coming into contact with the ball significantly more often than when he plays alongside Messi, hitting the target with almost half of his shots on goal and producing spectacular strikes that have put his status as one of the best players in the world beyond doubt.
On Friday, Sport's Francesc de Haro predicted that even without Messi, Barca can win at the Bernabeu; considering the way things are going at the moment, who can blame him? After all, it isn't just Neymar who is experiencing his best moment of form.
In the heart of midfield, Sergio Busquets has perhaps never been better, marrying the security and positioning of old with a new, more pro-active side to his game. On top of his usual short-pass, one-touch game, the Catalan has also been completing an average of 61 "vertical" (more direct) passes per match in La Liga, the usefulness of that shift exemplified by his sharp turnover to assist Neymar for the opener against Villarreal. Xavi Hernandez recently said that with his departure, the younger midfielder now needs to pick up the baton for Barca in the middle of the pitch. That's exactly what Busquets has done.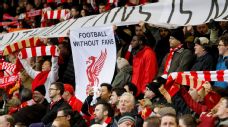 The positives for Barca don't stop there: fitness wise, things are also starting to look up. The blow of losing Rafinha Alcantara and Ivan Rakitic to injury has been lessened by the return of Andres Iniesta, who looked sharp last weekend, and on his day is still one of the finest players in the world. On the physical side of things, reports that Vicente del Bosque will only use Barca players in the first of Spain's two forthcoming friendlies against England and Belgium will also be music to Catalan ears. That would certainly help to lessen the odds of any of them returning to their club with niggles and knocks.
Things couldn't be more different for Real Madrid, who saw both Isco and Sergio Ramos pull out of international duty due to fitness concerns. On the pitch, the aura isn't exactly positive either; the ease with which Rafa Benitez's side appeared to give up after going 3-1 down against Sevilla last weekend a cause for concern. Above all, their problems are creative ones. At this stage last season, Los Blancos had scored 16 more goals in the league than present, and off-field distractions for their best out-and-out striker aren't likely to help change that deficiency. Barcelona must be rubbing their hands with glee.
Barca supporters would be wise to exercise a degree of caution as opposed to getting carried away. While Madrid's toils and positive developments in Catalonia might be inspiring, ambitious predictions regarding next Saturday's result, the reality is that grudge matches on the level of El Clasico are never a straightforward affair. Just ask Xavi, who noted on Thursday that while "in principle it looks like Barca are going into the game in a better state, you never know what can happen in a Clasico," adding that in the past the result has defied expectations in similar circumstances.
Perhaps it's worth listening to the 35-year-old: he knows a thing or two about these games, and if there's one thing Real Madrid do well, it's comebacks.
Lee Roden is a European football writer based in Barcelona. Follow him on Twitter: @LeeRoden89.