Levante end Barcelona's unbeaten La Liga season, and a few more streaks
Barcelona's record unbeaten streaks in La Liga are no more after losing 5-4 to Levante on Sunday, something that has not happened since 1964. More importantly, the Catalan club had multiple streaks snapped by the defeat.
Unbeaten La Liga Season? Gone.
Barcelona had been unbeaten in 36 La Liga games this season. They were aiming to become the first team to finish a La Liga season unbeaten since 1931-32, when Real Madrid did it, but that was an 18-game season.
Since then, the closest team to do it before this Barcelona side was Real Sociedad in 1979-80, who went unbeaten through 32 games.
Unbeaten Streak in La Liga? Gone.
Barcelona had gone unbeaten in 43 straight matches, last losing to Malaga 2-0 in April 2017. During that streak, Barcelona scored 122 goals, outscored opponents by 89 and scored five-plus goals in six matches.
Now they have to do it all over again.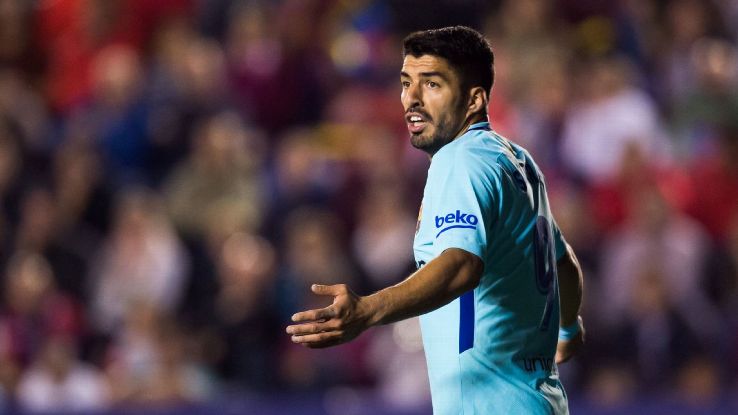 Twenty games without a loss to Levante in La Liga play? Gone.
Barcelona were unbeaten in 20 straight matches against Levante, dating back to a 5-1 loss in 1964. In their previous 10 La Liga matches against Levante, Barca had outscored them by 33 goals, 36-3.
Levante scored more goals on Sunday (5) than they had in their previous 10 matches against the Blaugrana.
Fifteen years without allowing five goals in all competitions? Gone.
Prior to Sunday, the last team to score five goals against Barcelona in all competitions was Malaga, a 5-1 loss in December 2003. That Barcelona team had Patrick Kluivert, Giovanni van Bronckhorst, Xavi and Ricardo Quaresma.
Levante had not scored four goals in a game this season -- they bypassed that number and went straight to five.
Thirteen years without a La Liga hat trick allowed? Gone.
The last player to score a hat trick against Barcelona in a La Liga match was Villarreal's Diego Forlan in 2005. The Uruguayan won the Pichichi that year ahead of Barcelona's Samuel Eto'o.
Emmanuel Boateng entered the game having scored three goals in 24 La Liga matches, all in separate contests. He proceeded to score three in 40 minutes.
Follow ESPN Stats & Information on Twitter @ESPNStatsInfo